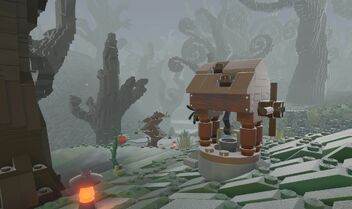 The Weird Woods is an uncommon Biome in LEGO Worlds.
Appearance
Edit
The Weird Woods is typically a dark world with rolling hills filled with large, leafless, spooky-looking trees. Many Halloween-themed Objects are found here, as well as a few scarier Characters. The occasional Hollow Tree may contain a Treasure Chest for your trouble, and rare Crypts might have even more Treasure! At night is when it really gets spooky: blue fireflies light up the night as rare monsters come out to play!
Characters:
Edit
Night Only:
Special:
Creatures:
Edit
Water Only:
Vehicles:
Edit
Objects:
Edit
All are 250 studs to unlock unless otherwise noted
Fence with Lantern
Large Fence
Small Fence
Iron Gate
Damaged Iron Fence
Gravestone
Pale Bush
Charred Plant 2
Plain Mushroom
Spooky Pumpkin Head - 500 Studs
Cauldron - 500 Studs
Shelter
Gothic Fence
Old Well
Skull Rack
Bouncy Web
Explosive Cauldron
Exploding Pumpkin - 2,000 Studs
Spiky Tree
Bone Ornament
Small Lantern
Tall Lantern
Iron Lamp Post
Vine
Pumpkin Fence
Hanging Web
Coffin
Skull
Old Well
Wooden Sign
Bonfire - 10,000 Studs to unlock
Tea Stand - 750 Studs to unlock
Popcorn Stand - 750 Studs to unlock - found as part of the Rocker Girl's quest
Brick Builds:
Edit
Useful Galactic Coordinates
Edit
Ad blocker interference detected!
Wikia is a free-to-use site that makes money from advertising. We have a modified experience for viewers using ad blockers

Wikia is not accessible if you've made further modifications. Remove the custom ad blocker rule(s) and the page will load as expected.