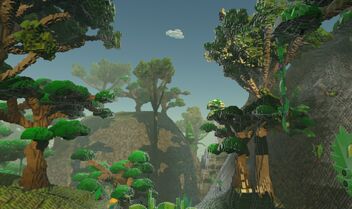 The Jungle is an uncommon Biome in LEGO Worlds.
Appearance
Edit
The Jungle is typically low, flat lands to slightly hilly, filled with trees with dark green leaves or no leaves at all, and lots of brightly coloured flora between the trees.
Characters:
Edit
Creatures:
Edit
Elephant
Vehicles:
Edit
Small palm tree
Hollow log
Flower with large green leaves
3 finger-leafed plant
2 large yellow bell flowers
Small green foliage
Curved Joshua Tree [1]
Small lobe-leafed tree
3 large red flowers
Rotting log with foliage
Single purple and pink flower
3 purple fruits with spikes
Large orange flower with red leaves
Brown sea grass with extra foliage
Structures:
Edit
Useful Galactic Coordinates:
Edit
Ad blocker interference detected!
Wikia is a free-to-use site that makes money from advertising. We have a modified experience for viewers using ad blockers

Wikia is not accessible if you've made further modifications. Remove the custom ad blocker rule(s) and the page will load as expected.