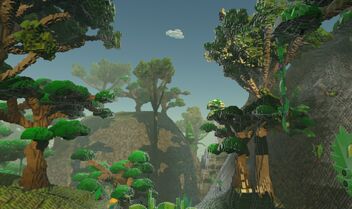 The Rowdy Rainforest is an uncommon Biome in LEGO Worlds.
Appearance
Edit
The Rowdy Rainforest is typically low, flat lands to slightly hilly, filled with trees with dark green leaves or no leaves at all, and lots of brightly coloured flora between the trees.
Characters:
Edit
Creatures:
Edit
Water only:
Vehicles:
Edit
Objects:
Edit
Small Green Jungle Vine
Jungle Vine (Pink Flowers)
Jungle Vine (Red Flowers)
Large Tropical Flower
Yellow Bloom
Big Flower
Leafy Bush
Hollow Log
Old Tree
Felled Tree
Tropical Bush
Lush Plant
Ground Foliage
Drooping Plant
Banana Tree - 1,250 to unlock
Structures:
Edit
Large Rainforest Trees with Stud Chests on various branches
The following Paint colours are unlocked on discovering this Biome (if they weren't already):
Rainforest Floor
Foliage
Stone
Mud
Useful Galactic Coordinates:
Edit
Ad blocker interference detected!
Wikia is a free-to-use site that makes money from advertising. We have a modified experience for viewers using ad blockers

Wikia is not accessible if you've made further modifications. Remove the custom ad blocker rule(s) and the page will load as expected.