The Paint Tool is one of the Tools used in LEGO Worlds to modify each World. Through the use of this tool, the Player can change the appearance, and sometimes even the physical properties, of anything in the World composed solely of LEGO Bricks.
The Paint Tool is usually one of the last tools unlocked, being discovered in the third Tutorial world, Candy Construction Capers (Tutorial).
While exploring the tutorial world, the Player will find an unpainted building. Very nearby should be another crater, this time with a large rock in the center, inside of which is the Paint Tool. From there, the Player will have to complete a very simple tutorial Quest teaching the Player how to use the tool on the unpainted house.
Accessing the Paint Tool
The Paint Tool is accessed through the Game Wheel:
Press and Hold

on the PC or Press and Hold

on PS4 or Press and Hold

on XBox One or Press and Hold X on the Nintendo Switch.
Press the control stick or move the mouse down and to the right to choose the pink Paint Tool Icon, and the Player's character will begin holding the Paint Tool, ready to paint the world!
Uses of the Paint Tool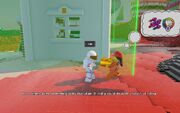 Painting in the LEGO world is more than just adding or changing the colour. As LEGO materials composition is based on the paint texture colouring the bricks, changing that colour can change the nature of a brick. For example, painting a brick with a water texture will make it so that Characters can pass through the brick easily, while painting it with a slime or lava texture will make the surface hazardous for most Characters to walk on.
Painting houses and other things in the world is often requested by other Characters to complete their Quests.
Accessing the Paint Menu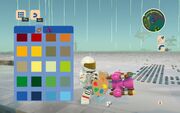 Changing paint colours or brush shapes requires accessing the Paint Menu. With the Paint Tool in hand, press the appropriate control (

or

on PC), and this will open the Paint Menu, with tabs to select from either Colors & Materials or Brushes.
While there are dozens of different paint colours, not all are unlocked at the start of the game. As the Player discovers more Biomes, new paint colours are unlocked.
Other Painting Items
There are several Items in the LEGO Worlds game that allow the player to spray paint liberally, if not effectively. These items must be discovered individually, through completing Quests or by finding them in Treasure Chests.
These weapons do very little damage by themselves, but cause paint to splatter across the environment. Depending on the paint texture, this can have VERY dire consequences indeed! They cannot paint on the surface of water, but will pass through, painting the surface beneath.
| Image | Name | Notes |
| --- | --- | --- |
| | Candy Launcher | Fires a rocket that paints the surface with "Candy Floss" paint. |
| | Carrot Launcher | Fires a rocket that paints the surface with a bright orange paint that blends easily into surrounding textures. |
| | Egg | When thrown, leaves behind a white and yellow splat of paint. |
| | Glow Gun | Fires a large blob that paints the surface with randomly selected glowing paint colours. |
| | Ice Bow | Fires a blob that paints the surface with ice paint, making it slippery. |
| | Ice Gun | Fires a large blob that paints the surface with ice paint, making it slippery, |
| | Lava Bow | Fires a blob that paints the surface with lava paint, turning the surface into a fiery pool of death! |
| | Lava Gun | Fires a large blob that paints the surface with lava paint, turning the surface into a fiery pool of death! |
| | Piano Gun | Fires a blob that paints the surface with randomly selected "Note" paints, turning the surface musical. |
| | Pie | When thrown, leaves behind a splat of "Snow" paint. |
| | Pie Launcher | Fires a rocket that paints the surface with "Snow" paint. |
| | Slime Gun | Fires a blob that paints the surface with slime paint, turning the surface into a deathtrap! |
| | Paintball Gun | Fires a blob that paints the surface with randomly selected paint colours. |
| | Paint Bow | Fires a blob that paints the surface with randomly selected paint colours. |
| | Water Pistol | Fires a blob that paints the surface with water texture paint.. |
| | Zane's Bow | Fires a blob that paints the surface with ice paint, making it slippery, and even painting over lava or slime! |