Merry Meadows is an uncommon Biome in LEGO Worlds.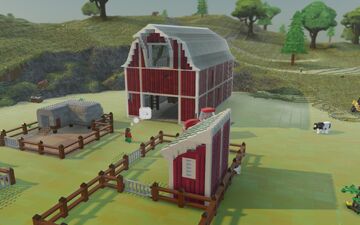 Appearance
Edit
The Merry Meadows Biome is typically wide open flat or gently rolling green land.  In between the Towns, are farms with fields of growing crops, barns and stables. Farmers and Scarecrows wander amongst many typical farm animals.
Characters:
Edit
Creatures:
Edit
Vehicles:
Edit
Red Flower with Leaves
Tall bush
Spreading bush with yellow flowers
Yellow Flower with Leaves
Yellow flower (Tall), 250 Studs
Corn 1 (Short), 250 Studs
Hay Bale (Single), 250 Studs
Brown flower, 250 Studs
Pumpkin, 250 Studs
Oil Pump, 250 Studs
Broken Fence 1, 250 Studs
Wind Turbine, 250 Studs
Broken Fence 2, 250 Studs
Trough, 250 Studs
Corn 2 (Tall), 250 Studs
Hay Bale (Double), 250 Studs
Broken Fence 3, 250 Studs
Structures:
Edit
This biome was previously known as the Plains ("DEFAULTPLANES" in the code), and was the original home for the Policeman, Policewoman and Constable.
Despite the fact that Brown Cows can be found here, Brown Bulls cannot.
Useful Galactic Coordinates:
Edit
Ad blocker interference detected!
Wikia is a free-to-use site that makes money from advertising. We have a modified experience for viewers using ad blockers

Wikia is not accessible if you've made further modifications. Remove the custom ad blocker rule(s) and the page will load as expected.