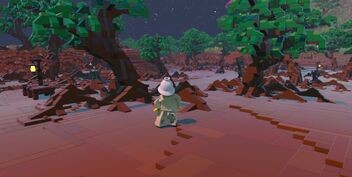 The Swamp Biome is an uncommon Biome in LEGO Worlds.
Appearance
Edit
The Swamp Biome ranges from wide flat areas of brown, muddy swamp, to higher hilly areas that are covered in green. Mangrove trees abound, as well as numerous interesting Props. One structure known to appear in Swamps is the Stilt House, which may have a large Item Chest inside.
Characters:
Edit
Creatures:
Edit
Vehicles:
Edit
Cattails
Large reed with red fruit
Medium reed
Small reed with orange fruit
Fire with cauldron
Dock with lantern
Thorny plant
Three-leafed plant cluster
Large orange bulb flowers
Small Orange flowers with green leaves
Dock with fishing pole
Wooden dock
Structures:
Edit
Useful Galactic Coordinates:
Edit
Ad blocker interference detected!
Wikia is a free-to-use site that makes money from advertising. We have a modified experience for viewers using ad blockers

Wikia is not accessible if you've made further modifications. Remove the custom ad blocker rule(s) and the page will load as expected.