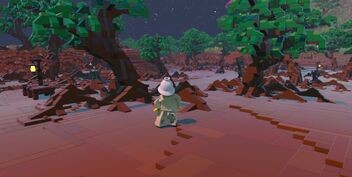 The Lawless Lagoon is an uncommon Biome in LEGO Worlds.
Appearance
The Lawless Lagoon ranges from wide flat areas of brown, muddy swamp, to higher hills, and large mangrove trees are scattered everywhere.  Frequently Stilt Houses will be found amongst the trees, and both lawbreakers and peacekeepers make this region their home.
Models
Characters:
Only after dark:
Creatures:
Only in water:
Vehicles:

Only on water:
Items:
Reeds
Large Reeds
Swamp Plant 1
Swamp Plant 2
Swamp Plant 3
Swamp Plant 4
Swamp Shrub 1
Swamp Shrub 2
Swamp Shrub 3
Small Hanging Vine
Tree 1
Tree 2
Outdoor Light
Candle
Cooking Pot
Jetty
Fishing Jetty
Jetty Light
Underwater only:
Structures:
Useful Galactic Coordinates:
Notes
If you are having trouble finding the Swamp Creature, remember that it only spawns at night, and tends to be found in the water close to shore. You may even need to be on the Fisherman's quest to snap a picture of the creature, though that part is unconfirmed.
Gallery