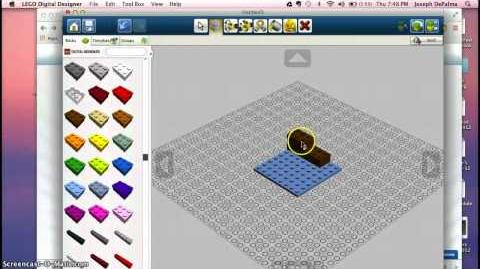 LEGO® Digital Designer (LDD) is a free computer program that enables users to create custom LEGO creations in a virtual environment, which can then be exported into a format usable by LEGO® Worlds. The program is available on both Windows (XP, Vista, 7 and 8) and Mac OSX platforms, and can be downloaded for free directly from the Lego Digital Designer website.
Using LEGO Digital Designer
Edit
LEGO Worlds Developer Chris Rose posted the following in the Steam Community Forums:
ttcrose

 [developer]

Jun 1 @ 2:37pm

We've had a few people ask us about supporting the LEGO Digital Designer. Well... we already do!


Here's some info for you;


Export the LDD LXFML files and put them here:

C:\Users\YOUR_USERNAME\AppData\Roaming\Warner Bros. Interactive Entertainment\LEGOWorlds\Mods\Models

They will now show up in your models list. Though they might be missing an icon, so make sure you name them correctly!

The same works in reverse, though we heavily recommend that you backup anything you put INTO LDD, as it might not be 100% compatible and may break your models.


Get building and creating!



LEGO Digital Designer is not 100% compatible with LEGO Worlds, due to the number of usable bricks in LEGO Worlds being limited compared to the complete collection listed in LDD. One way to combat incompatibility issues is to use a custom palette. User ニクラウ on Steam [1] has conveniently provided a custom palette available for download to be used with LDD when you are building to import into LEGO Worlds.
ニクラウ20 Dec, 2015 @ 1:56pm




I made LDD(Lego Digital Designer) user palette

Download URL https://onedrive.live.com/redir?resid=2817769E25CA9672!15882&authkey=!AEzrTY3b8-dLyec&ithint=folder%2clxf

Please put in here.↓ C:\Users\"user name"\AppData\Roaming\LEGO Company\LEGO Digital Designer\UserPalettes

Please make yourself folder of UserPalettes.

New LXFML format models folder↓ C:\Users\"user name"\AppData\Roaming\Warner Bros. Interactive Entertainment\LEGOWorlds\SAVEDGAMES\CONTENT\S1-SYSGLOBAL\MODS\MODELS
Useful Links
Edit