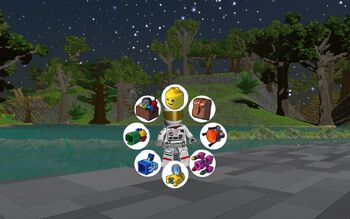 The Game Wheel is the primary menu for accessing the tools used to manipulate the world in LEGO Worlds. To access the Game Wheel, press the appropriate control button:
Press and Hold

on the PC or Press and Hold

on PS4 or Press and Hold

on XBox One or Press and Hold

on the Nintendo Switch.
Once completely unlocked, the Game Wheel allows accessing eight different tools or game options:
Ad blocker interference detected!
Wikia is a free-to-use site that makes money from advertising. We have a modified experience for viewers using ad blockers

Wikia is not accessible if you've made further modifications. Remove the custom ad blocker rule(s) and the page will load as expected.