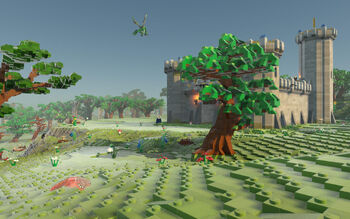 Fantasy Forest is a common Biome in LEGO Worlds.
Appearance
Edit
The Fantasy Forest is typically comprised of flat lands to rolling hills, covered with large leafy trees and small grey boulders. Stone Pillars have been seen here frequently, occasionally with an Item chest at the top, and Treehouses are known to appear from time to time. On rare occasions, a Brickhenge may even be seen, baffling the local population, and high in the sky, floating castles soar among the clouds.
At night, the forest becomes filled with fearsome monsters and strange beasts!
Rarely, one will even come across a Town, appearing remarkably out of place with its perfect streets and modern conveniences.
Characters:
Edit
Only at night:
Creatures:
Edit
Only at night:
Vehicles:
Edit
Bush
Bush 2
Grass Tuft 2
Small mushroom
Large mushroom
Red flower
White flower
Yellow flower
Bluebell
Snowdrop
Sunflower
Small Stump
Large Stump
Wishing Well
Turkey Roast
Barrel Stack
Tall Stump
Toadstool
Poisonous Mushroom
Crate
Green Apple Tree
Red Apple Tree
Brick Builds:
Edit
Useful Worlds:
Edit
Ad blocker interference detected!
Wikia is a free-to-use site that makes money from advertising. We have a modified experience for viewers using ad blockers

Wikia is not accessible if you've made further modifications. Remove the custom ad blocker rule(s) and the page will load as expected.