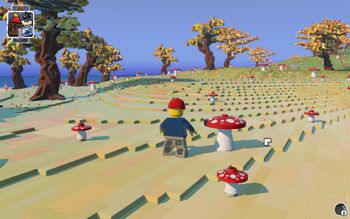 The Falling Forest is a common Biome in LEGO Worlds.
Appearance
Edit
The Falling Forest is typically composed of flat lands to rolling hills, covered with large yellow and orange leafy trees and small grey boulders. Autumn leaves dance and swirl through the air.
Characters:
Edit
Creatures:
Edit
Daytime:
Nighttime only:
Vehicles:
Edit
Objects:
Edit
Poisonous Mushroom
Plain Mushroom
Large Mushroom
Bouncy Mushroom
Large Bouncy Mushroom
Huge Bouncy Mushroom
Massive Bouncy Mushroom
Tall Grass 1
Tall Grass 3
Tall Grass 4
Pumpkin
Spooky Pumpkin
Carrot Mound
Red Apple Tree
Green Apple Tree
Dark Green Apple Tree
Small Stump
Fallen Log
Fallen Log 2
Brick Builds:
Edit
The following Paint colours are unlocked on discovering this Biome (if they weren't already):
AutumnLeaves
Mud
Stone
Brick
Useful Galactic Coordinates:
Edit
Ad blocker interference detected!
Wikia is a free-to-use site that makes money from advertising. We have a modified experience for viewers using ad blockers

Wikia is not accessible if you've made further modifications. Remove the custom ad blocker rule(s) and the page will load as expected.