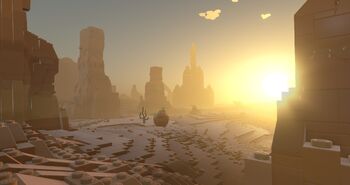 The Mesa is a common Biome in LEGO Worlds.
Appearance
Edit
The Mesa Biome is typically wide open flat or gently reddish-brown with large stone mesas and arches dominating the landscape. There are no trees here, and few props other than cacti and skeletons.
Characters:
Edit
Creatures:
Edit
Vehicles:
Edit
Light green sea grass
Brown sea grass (Looks dark green in the prop list)
Dark green sea grass
Cow Bones
Bouncing animal ribcage
Horned animal skull
Cow Skull
Three-horned animal skeleton
Three-armed Flowering Saguaro
Four-armed Saguaro
Flowering Barrel Cactus
Two-Armed Saguaro
Curved Joshua tree
Flowering double barrel cactus
Tall Joshua tree
Rocks with ferns
Tall Column cactus
Short Joshua tree
Straight Saguaro
Structures:
Edit
There are no known structures appearing naturally in the Mesa biome.
Useful Galactic Coordinates:
Edit
Ad blocker interference detected!
Wikia is a free-to-use site that makes money from advertising. We have a modified experience for viewers using ad blockers

Wikia is not accessible if you've made further modifications. Remove the custom ad blocker rule(s) and the page will load as expected.