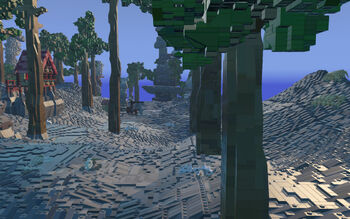 The Curious Canyon is an uncommon Biome in LEGO Worlds.
Appearance
Edit
The Curious Canyon Biome is typically wide open flatlands with large stone mesas or enormous mountains with little else. There are no trees here, but lots of cars and the occasional cabin.
Characters:
Edit
Only at night:
Creatures:
Edit
Water only:
Vehicles:
Edit
Red Rock - 750 studs to unlock
Red Boulder - 750 studs to unlock
Red Rock Mound - 750 studs to unlock
Red Stone Pile - 750 studs to unlock
Tall Grass
Open Spiky Bush
Closed Spiky Bush
Big Spiky Bush
Thorny Bush
Bouncy Bones - 750 studs to unlock
Goat Skeleton
Small Skull
Skull Rock
Horned Skeleton
Skeleton Bones
Old Skeleton
Toolbox (Hammer)
Toolbox (Wrench)
Dynamite Crate
Campfire
Bonfire - 10,000 studs to unlock
Tall Wall Torch - 500 studs to unlock
Sofa
Single Sofa Chair
Outdoor Light
Water only:
(Below is the update 1 info, which has not yet been merged)
| Name | Icon | Price in Studs |
| --- | --- | --- |
| Cow Bones | | 250 |
| Bouncing animal ribcage | | 750 |
| Horned animal skull | | 250 |
| Cow Skull | | 250 |
| Three-horned animal skeleton | | 250 |
Brick Builds:
Edit
There are many structures, including several different small houses on platforms, tall thin trees and stacked balanced boulder formations, with and without platforms.
Small houses (several styles, including some with Stud Chests inside.
Stacked boulder columns (no platforms)
Stacked Boulder Platforms (no chests)
Tall thin trees
The following Paint colours are unlocked on discovering this Biome (if they weren't already):
Useful Galactic Coordinates:
Edit
Ad blocker interference detected!
Wikia is a free-to-use site that makes money from advertising. We have a modified experience for viewers using ad blockers

Wikia is not accessible if you've made further modifications. Remove the custom ad blocker rule(s) and the page will load as expected.