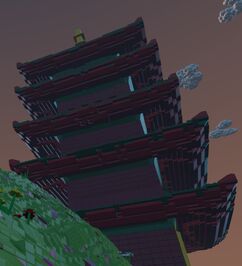 Brick Builds are pre-defined structures that can be instantly built for no cost.  A Brick Build is defined as a complex structure that has a blueprint enabling it to be built again and again.  Any structure in the world that is not a prop or just terrain is a Brick Build.
Randomly Generated Structures
Edit
Throughout the world, in every Biome, there are structures that have been designed by the designers to enhance the atmosphere of the game. These structures are generically referred to as "Brick Builds." Through the procedural random world generation system, these structures are added to each world, resulting in a more complex and interesting environment.
Many of the randomly generated structures in the world are also found on the Brick Builds submenu of the Models menu. As of Update 2, there are 70 pre-defined Brick Builds on the Brick Build submenu.  All Brick Builds in the Build menu are available right away and they do not need to be purchased.
Some of the randomly generated builds will have Treasure Chests or Item Chests included as part of the design when they are randomly generated. The chests will always appear in the same place on or within the structure every time, unless the generation of another object interferes with its placement (such as when a tree "grows" into a building).
Designer Contests
Edit
Periodically, the game developers have run design competitions allowing players to create custom builds to be permanently included in the game, under the Brick Builds menu. These contests may follow some sort of theme, such as "Natural Formations." Thus far, two competitions have been held.
Creating Custom Brick Builds
Edit
Players can create new Brick Builds one of two ways:  Either by saving a Build using the Tools, or by using LEGO Digital Designer and exporting the design, then importing it into LEGO Worlds.
List of Brick Builds in the Game
Edit
With the advent of Update 1, and the new Biomes, Canyon and Scrap Plains, this list will be far from comprehensive. Currently the following Brick Builds are known:
Ad blocker interference detected!
Wikia is a free-to-use site that makes money from advertising. We have a modified experience for viewers using ad blockers

Wikia is not accessible if you've made further modifications. Remove the custom ad blocker rule(s) and the page will load as expected.