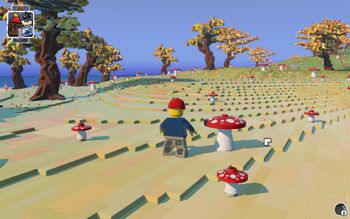 The Autumn Forest is a common Biome in LEGO Worlds.
Appearance
Edit
The Autumn Forest is typically flat lands to rolling hills, covered with large yellow and orange leafy trees and small grey boulders.
Characters:
Edit
Creatures:
Edit
Vehicles:
Edit
| Name | Icon | Price in Studs |
| --- | --- | --- |
| Large red bouncing amanita mushroom | | 750 |
| Small red amanita mushroom | | 250 |
Brick Builds:
Edit
Useful Galactic Coordinates:
Edit
Ad blocker interference detected!
Wikia is a free-to-use site that makes money from advertising. We have a modified experience for viewers using ad blockers

Wikia is not accessible if you've made further modifications. Remove the custom ad blocker rule(s) and the page will load as expected.